Michaiah Hanks Biography
MICHAIAH HANKS – CELEBRITY GRANDCHILD BORN OUT OF A ONE-NIGHT STAND
| | |
| --- | --- |
| Real Name: | Michaiah Tiffany Hanks |
| Birthday: | April 16, 2016 |
| Net Worth: | N/A |
| Height: | N/A |
| Occupation: | Daughter of Chet Hanks and Tiffany Miles, Granddaughter of Tom Hanks |
We have talked a lot about celebrity children in Hollywood. Today, we will talk about a different type of celebrity, a celebrity grandchild. That is the case with Michaiah Hanks, the granddaughter of famous American actor Tom Hanks.
Truth be told, her father is also a celebrity, but most people recognize her as the grandchild of Tom Hanks. Michaiah is the daughter of Chester Marlon Hanks and Tiffany Miles.
Her granddaughter, the veteran actor Tom Hanks, has appeared in some of the most famous movies. She wasn't born out of a serious relationship. No matter that, her father considers her to be the best thing that has ever happened to him.
Today, we will talk more about this celebrity child.
Who Is Her Father?
Born Chester Marlon Hanks in August 1990, Chet is an American actor and musician. Sometimes, he says that he is the black sheep of the Hanks family. Unlike his father Tom Hanks, Chet is a bit more controversial figure.
He is the third child of Tom Hanks and the first he had with actress Rita Wilson. When he was in high school, his parents sent him to a wilderness therapy program for troubled teens. Called Second Nature, the facility that was supposed to help him.
Later on, he attended the Oakley School, which is a now-closed therapeutic boarding school in Oakley, Utah, United States.
Chester studied theater at Northwestern University. He got his acting debut as Dexter in the 2007 movie Bratz. Soon after, he picked up a couple of small roles in the early 2000s.
From 2016 to 2018, Chet Hanks portrayed Charlie, the father of Sierra Morton's child, on the American version of Shameless. He also played rapper Blake on the hip-hop drama series Empire from 2018 to 2019.
In 2020, Chet and his father Tom Hanks appeared in a movie together. Tom starred in the World War II movie Greyhound, while Chet had a cameo role.
Besides his acting career, he has ventured into music as well. He recorded White and Purple, a song under his alias Chet Haze. It is basically a remix of Black and Yellow, the song by Wiz Khalifa. Chet changed the lyrics to reference his high school colors.
In 2016, Chet formed the musical duo FTRZ with Drew Arthur. They released two singles under that name.
In 2020, he was granted Greek citizenship in recognition of his parents' work raising awareness for the 2018 wildfires in Africa.
He posted on Instagram in 2020 in support of the Black Lives Matter movement. He took a hiatus in October 2020, claiming that pro-Trump conspiracy theorists target his family.
He is often described as the black sheep of the Hanks family due to the contrast between his controversies and the clean image of his father, often cited as America's dad. We also have to mention his siblings, Elizabeth Hanks and Colin Hanks, who are a bit more successful in the acting world.
Who Is Her Grandfather?
Michaiah Hanks is mostly famous because of her grandfather. And that is Tom Hanks, born Thomas Jeffrey Hanks in July 1956. He is a famous American actor and filmmaker, famous for his comedic and dramatic roles.
Some of his most famous roles include the Green Mile, Forest Gump, Big, Elvis, The Da Vinci Code, Saving Private Ryan, Catch me If you Can, Sleepless in Seattle, the Man With One Shoe, Philadelphia, Finch, The Terminal, and more.
His movies have grossed more than $4.9 billion in North America alone and almost $10 billion worldwide. That makes him the fourth-highest-grossing actor in the United States.
He has been nominated for an Academy Award six times, winning two of them. He has also won the Primetime Emmy Award seven times for his work as a producer.
In 2002, Hanks received the AFI Life Achievement Award. In 2016, he received a Presidential Medal of Freedom from President Barack Obama, and then the French Legion of Honor.
Who Is Michaiah Hanks?
Now let's talk about the celebrity child we mentioned in the beginning. Born on April 16th in California, Los Angeles, she is one of the many celebrity children in Hollywood. Her parents are Chester Hanks and Tiffany Miles.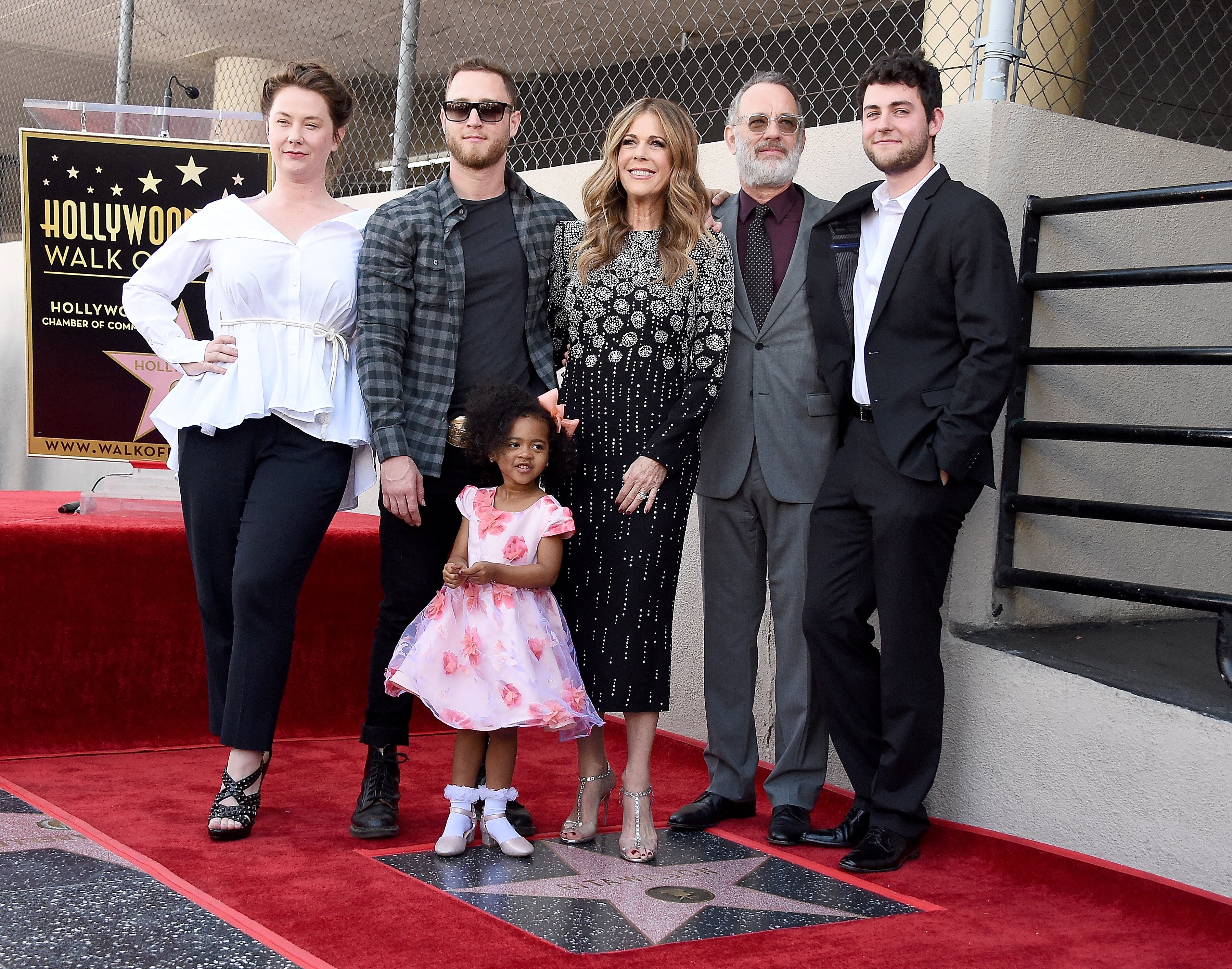 Chester is of Bulgarian, Greek, English, and Portuguese lineage, while Michaiahs mother is an African American. As such, Michaiah is of African-American ethnicity. She has black hair and dark brown eyes.
She currently lives in Palm Springs, California, alongside her family. She often visits her mother during holidays. Her celebrity father has put a lot of effort to keep her away from the spotlight. Yet, at the same time, he was the one to announce her birth back in the day on Instagram.
The young celebrity is a school-going child, but there is no information about her education and school. She wasn't born out of a serious relationship. Her parents were never in a relationship. Tiffany and Chet had a one-night stand while he was drunk.
Yet, Chet says that the woman who gave him his daughter is the sweetest person. He also says his daughter is the best thing that has happened in his life. Chester says she helped him turn his life around. In almost any interview, he mentions how much his daughter means to him.
Chet paid a heartfelt tribute to his daughter's black mom amid the George Floyd protests. He posted on Instagram showing him standing in front of George Floyd's artwork. He thanks the mother of his daughter, calling her, "the mother of my child and a beautiful black woman".
Is She On Social Media?
Michaiah is just six years old as of October 2022. Of course, that is way too young to be on social media. Yet, you can find many pictures of her on Instagram, courtesy of her father.
Chet posted a video to his Instagram account to announce the birth of his child. The post has been deleted since. But in that video, he said, "I want to share something today because it's about to be shared anyway in the press, which is the fact that I have a daughter. I do have a daughter, she's the best thing that's ever happened to me, she's the reason why I turned my life around and got sober".
At the time, he revealed he has been sober for over a year and a half. In February 2019, the proud father stepped out for the first time with his daughter.
How Many Grandkids Does Tom Hanks Have?
As of October 2022, Tom has three grandkids, all granddaughters. Those are Michaiah, Olivia Hanks, and Charlotte Hanks. Olivia was born in 2011, while Charlotte was in 2013.
Relationship With The Hanks Family
The Hanks family loves Michaiah Hanks. Per some sources, "they have fallen in love with the little girl. They adore that baby and even spent Halloween with her. She will always be loved and taken care of by the Hanks family".
Chet has received help from his father to raise his daughter. Tom has helped him with financial expenses, including the rent for his Santa Monica home. He also provides aid for Chet's daughter. At the time, the full custody was in the hands of her mother Tiffany.
On one occasion, Tom said, "We're the cool grandparents". Tom and his wife Rita say that they do not need TV, radio, or books when their grandchildren are around.
Net Worth
Michaiah Hanks is just a young girl. You cannot expect her to earn money yet, right? Thankfully, her celebrity grandfather has taken care of that. His movies have grossed almost $10 billion worldwide.
As of November 2022, Tom Hanks has a net worth of more than $400 million. That is more than enough for the entire Hanks family to live lavishly without working until the end of their lives. Chet Hanks also has a net worth of $3 million.
We cannot talk about Michaiah Hanks's net worth as of now.
Also Read